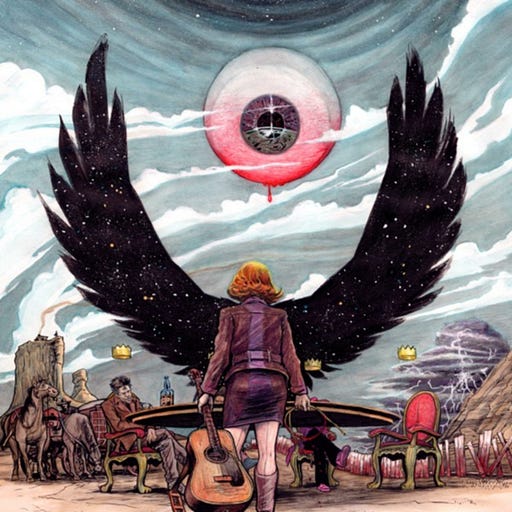 Jun 4 • 25M
Processpod 015 | Post FBDM, my haul and impressions!
+ Reflections on how I ALMOST got to work on Animal Man!
A work and life blog, simple largely unedited check-ins about my comics, talking about creative work, and whatever else strikes my ADHD/ASD brain.
The email version of this might be truncated for length, remember if so you can always read it on the app or the

site here

!
Hey folks, I started recording this the day after the festival, and then wrapped it up the weekend following it. First half is my FBDM/MCAF report. Second half I talk about how I talked myself out of a great job back in the mid 90s!
Hey so yes, lets cut to the chase, the show was AWSOM! Here's me squinting at my half table, which worked out ok but I had thought I'd booked a full one! Dope.
It was fine though, Brendan Joined me the first two days and with so little room back there, I kicked him out to take in the show and collect some material for THIS POST, his summery and photo essays from the show over on Sequential.
That worked out well and we sold a pretty decent number of the magazines, especially the latest issue, including a few he left with me Sunday.
---
For my part I came close to selling out of Dream Life and moved a lot of other books. It's always nice when the suitcase it lot lighter like that packing up at the end of a show, even If I live in town.
From what I hear it was a very good show for most exhibiters, attendance is placed at 82,000 by the festival, and it was really hopping sometimes Saturday and Sunday.
I took picks of most of the portraits i drew in Dream Life, I missed a couple just being Distracted, and there was one I thought i took but ain't on my phone somehow? But of those I shot, here's those…
All the books I picked up at the show for myself. From left to right there's Words Plural by Sven, who apparently has been watching my YouTube clips as part of his learning process? Something he shared with me when I met him Saturday.
We had some great chats along with his local helper Kat Hirigoyen. Then next table over was Jonathan Rotsztain selling his comics and some crafty things, and Nicholas Friesen of Olivia Sea. Which while being a cartoon band, actually has some good tunes!
That whole crew was a lot of fun to table with, good vibes from all.
I had backed Tales from the Interface on KS and Emmanuel and I are local 'hey' friends going way back, so we arranged for me to swing by and get those in person and save him some postage! Looking forward to all of these.
I chatted with Andrew Wheeler for a while when things were slow Friday, and meant to go back for Sins of the Black Flamingo, his latest book in that series. I like the look of it and the premise, so will have to find it or get it online now because I gapped out on stopping back in Sunday to pick it up. Hope he did good too!
I stopped and admired the work of Joy San Friday and remembered to go back and get a print and her sticker book for Ange Sunday so winner there!

But that was it for me really, it was a HUGE show, took a while to really take it all in properly and I just never really had the energy to do that properly. A bit of a better over view can be found here posted by my table guest Brendan for Sequential.
---
Second half of the podcast, I talked about this story. Here's not a transcript so much as the text of the post that inspired me to record that.
Just shared some of Steve Pugh's virtuoso work [on facebook], I love his stuff but also reminds me of a, lets call it learning experience I had in, mid to late 1994 I think it was?
Thought I'd share that here for the many commercial art students in my feed.
I was at the tail end of my run of working for Marvel, I had started out always wanting to be on DC horror comics, and was starting to make more connections in the mid 90s with Vertigo editorial finally again. Unfortunately it never really panned out with any of them. for a bunch of reasons.
But this time it was mostly about issues I was having. Both over estimating my shortcomings with a key drawing skill at the time, and correctly I think recognizing my physical and mental limit at the moment.
My not fully understood ND social shortcomings in hindsight didn't help often back then. But also I was starting to feel generally burnt out by the time I was taking meetings with them in NY.
So didn't go as gangbusters as I'd have liked, but there was some interest generated by the work I had showed them.
Also talked to Karen about story ideas of my own, she was open to looking at them and gave me the low down on what they were looking for*.
But mid 90s, I had been LOVING Steve's Vol. 1 run on Animal Man. Was clearly a fan of similar esthetics but also was in aw of his menageries, so many lovely animals.
At the time one of my self assessed shortcomings was consistency with animals so I was loving those pages and taking notes.
So you can imagine, having been trying to land work with vertigo - in my mind a short ark with a long lead in on any of their books would be ideal - I was delighted one morning to get a call from I think the assistant editor on Animal Man, asking if I wanted to come onto the title after Steve's exit?
That, was very conflicting and I ended up self borking it.
Monthly books had been brutal to be on, but I was up for the idea of trying again on a shorter story I could get behind with a good ED and team. I think they indicated we could treat it that way.
But then I reflected for a critical moment on the nature of the book and remembered I was super insecure about having to draw so many animals. Like, in principle fantastic opportunity to study, but under a monthly deadline? Eek!
I probably should have said yes and sorted it out later. Ah well. Instead I talked myself out of it.
Not sure it was the wrong call, I really needed to take a break from comics. But always regretted maybe what was a bit of overshare before I could think on it more from that phone call a bit.
Process Notes for Saint Sinner Pages
Pages here are starting with three from Saint Sinner #2 from a few years before, that I always liked.
I was thinking about work from a few people at the time for pg 17 of #2. That I recall still; Brain Boland was a keystone role model at the time. I loved Alan Davis's organic line, self inked look.
And then for that one I was leaning in the direction of Bissette & Totleben's Swamp thing obviously. And I was looking at a lot of Serpieri and the baby birthing bit was a direct influence from some of his work.
Also still loving my post punk digital graphics tricks. ❤️
The screen pattern of Kento's cloak was my thumbprint scanned and posterized, and made a dot tone image laser printed onto adhesive sheets. home cooked tone sheets.
I did that for the shots when he wasn't blurry, and for those when he's out of phase, it was his line art scanned in and married with the sheets, and then motion blurred and laser printed out as a sticker.
Then I took that for the bottom rows, and morphed it into...the two page spread of the domain Kento Canto creates for Philp and the crew.
I was so please with but was printed divided in two, by an X-man in house ad. I had checked with ED first, as I was told to...😡
Also I always was happy with my talking fish in #3. 💜
Lettering by Janice Chiang.
*I took another decade at least though to refine my writing to where I thought it was presentable and by then was not thinking about anything as genre based as Vertigo was doing so never got to follow up with her on that.
---
Ok, that's it for this instalment! I'm trying to be sanguine about my lack of progress on current things the last two months, but I feel like my batteries are closer to being recharged now after the festival so soon, soon we shall get back to all that I hope.

See you next time and thanks for following things here. Don't forget there's chats and comments baked into the substack so you can drop me a line anytime via those!

Cheers - Max